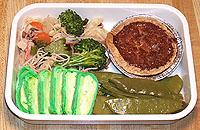 Today I have a rainbow rolled omelet, and since I was in a Seussian frame of mind I colored them green. That, unfortunately, left me craving ham, and of ham I had none. The closest thing I had was turkey bacon, and I don't think that'll do. Oh well, I made do with yakiudon-style shrimp noodles, which had crab sticks. (Green eggs and crab? Um...) and there's also steamed snow peas and a miniature purple sweet potato pie.
Happy April Fool's Day. I don't have any pranks to play this year; I'm just enjoying all the goofery on the Web.
Wanna talk about it?