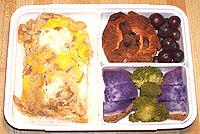 Oyakodon is one of the uglier dishes in my recipe book. Honestly, while you're cooking it it looks like a swamp. And it is - a swamp of delicious chicken and eggs over rice. Somehow I made a letter B with this batch. B is for Bento, that's good enough for me.
Then there's baked purple sweet potato, steamed broccoli, grapes, and chocolate chip melon pan. I do likes me the chocolate chip melon pan. My friends and family do too; I often get requests for melon pan. As long as I have the time to make it - it takes about 4 hours because the bread has to rise - I'm happy to.
Wanna talk about it?