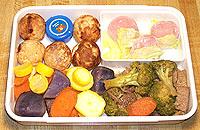 Spring is here! In Japan one of the Springtime events is hanami, a flower-watching party, when people picnic under cherry trees in bloom. They eat, among other things, sakura-mochi, which are pink rice cakes filled with sweet red bean paste. Well, down here in Georgia we don't have many cherry trees. What we do have is dogwoods, and they're blooming right now. And so are lots of other varieties of trees, releasing a lovely saffron mist which tints everything yellow, including our lungs. So, I've made sakura-mochi for a new tradition I'm starting right now: kahunmi, the pollen-watching festival. Sit under the dogwoods, gaze at their flowers, and take your Claritin.
What I'll be eating as my lungs fill with microgametophytes includes takoyaki; beef & broccoli stir-fry; steamed squash, carrots, and purple potatoes with lots of butter; and sakura mochi (Easiest version). This is a new recipe for sakura mochi, my fourth, and the easiest one so far. I basically adapted the dough from my kushi dango recipe, since it's so easy to handle and shape, and found that I could whip out a batch very quickly and easily. Why haven't I been doing this all along?
Wanna talk about it?