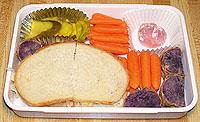 I spent most of this weekend with my family celebrating the fact that I've managed to survive 40 years. (Almost, anyway. As of this coming Friday.) By the time I got home I had no time to cook stuff, and, wouldn't you know it, I was out of leftovers! So here's what I threw together: a turkey-bacon BLT on French bread, baked purple sweet potato, some pickles, some baby carrots, and a sakura mochi (easiest version).
I promise I will cook tonight. I have a fridge bursting with neat stuff from the Farmer's Market - one of my b-day presents - so I'll be doing some intense - nay, hardcore - cooking this week.
Wanna talk about it?