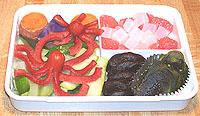 Today I have a colorful melange of... colorful stuff. In no particular order: hot dog octopi, baked purple sweet potato, baked sweet potato, zucchini & onion stir-fry, simmered shiitake mushrooms, some Kool-Aid pickles, and grapefruit and coconut gel. The Kool-Aid pickles were made with grape Kool-Aid, which tastes good but makes for dark, icky-looking pickles. Next time I'll use cherry.
Today's my 40th birthday. Yay me. I suppose I should have packed a cupcake or something. Ah well, I'll probably get a cupcake on my way home for dinner tonight.
Wanna talk about it?