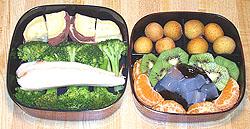 Today's lunch starts with a baked tilapia fillet, steamed broccoli, and baked Japanese sweet potato. I didn't mean for those to form a doleful face, but that's what I saw after I took the photo. Oh well. On the other side I have fresh longans, and a fruit salad made with mandarin oranges, kiwi fruit, grass jelly, and coconut gel.
Grass jelly is a black Jell-o like substance consumed in parts of Asia either in a dessert or a drink. By itself it has little flavor, as I found out when I opened the can and sampled some. I'd been planning to use it in a fruit salad anyway, so I opened up a can of coconut gel and drizzled some of the syrup on the grass jelly. As it turns out, that's not far from the way it's often served: mix with fruit or serve in sweetened icewater.
Wanna talk about it?