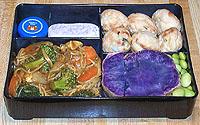 Once again I have some yakisoba curry, which is exactly what it sounds like. I didn't want it to slop over into the other items in the box, so I used less water than I would normally, resulting in a thicker sauce that won't splash around. The curry has chicken, carrots, onion, broccoli, and shrimp noodles. Which technically makes it non-yakisoba, but that's splitting hairs and I'm not going to post a whole new recipe just for a noodle change.
And then there's baked purple sweet potato, which is practically crowding the edamame, out of the box, some takoyaki (with takoyaki sauce in the blue container), and a taro mochi.
Wanna talk about it?