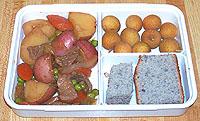 I realized after I made this that I had a weird twist on the Southern American steak 'n' taters 'n' cornbread dinner. I've got niku jyaga, which is Japanese for meat & potatoes, and blue country cornbread (made with cornmeal from blue corn). The fresh longans aren't American at all, but persimmons are out of season.
I baked this batch of cornbread in an iron skillet. It cracked in a weird but amusing pattern. Who watches the cornbread?
Wanna talk about it?