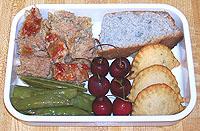 By now everyone in the continental US knows that George Carlin passed on this past weekend. What can I say, he was a funny man and the news made me sad. So, here I am, making a bento lunch that is a salute to him, sorta-kinda. It includes meatcake, AKA meatloaf, and blue country cornbread, which is classic blue food. Blue food, man.
There's also steamed sugar snap peas, some mushroom turnovers I bought at Trader Joe's, and cherries, but I can't tie those in to Carlin because they weren't going bad in the back of my fridge.
Tomorrow: The seven foods you can never use in a bento!
Wanna talk about it?