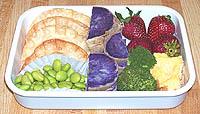 This box is a collection of miscellania, yet its variety balances it out, I think. I have crab rangoon gyoza, edamame, steamed broccoli, baked purple sweet potato, omelet, and strawberries. It looks like a festival of leftovers, but surprisingly it isn't. Go figure.
I do like me some purple potatoes.
Wanna talk about it?