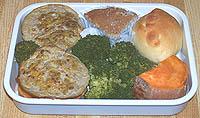 Who says meatloaf can't be cute? I had a little filling left over after making meatloaf gyoza, so I got out a muffin pan and made a few mealoaf cupcakes. Come to think of it, individual meatloaf cakes are better suited for bento lunches than slices of regular meatloaf, aren't they?
And then I have steamed broccoli, baked sweet potato, blue country cornbread, and an pan. Nom nom.
Wanna talk about it?