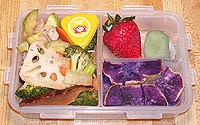 What do you do when you are making my mom's pork chops and you find you have one more pork chop than will fit on the baking sheet? Simple - make pork & vegetable stir-fry the next day. This batch of stir-fry has shiitake, carrot, lotus root, onion, zucchini, broccoli, and maybe a few other things I'm forgetting right now. I basically wandered through my fridge until I had enough stuff to cook up.
On the other side I have baked purple sweet potato, a strawberry, and a mochi.
By the way, this past weekend I went to my sister's house and introduced her & her family to yakiudon and melon pan. Both were a hit, the former more with the adults and the latter especially with her kids.
Wanna talk about it?