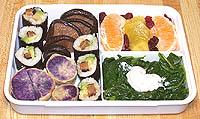 It was clean-out-the-fridge day, but then every day is clean-out-the-fridge day. I just have to decide which part to clean out. Some of you know what I'm talking about.
Anyhow, here's some maki sushi, baked purple sweet potato, simmered shiitake mushrooms, spinach, orange segments, golden kiwi, and craisins. I tried to make it look kinda jumbled and funky, but now I see that it has my usual semi-pathological, art-college-grad set of patterns and rhythms. Sometimes I think my lunches would come out that way if I put on a blindfold and threw stuff across the room in the general direction of my lunch box. But - hey, look at the sweet potato. Some odd colors there, huh? Parts of it were purple, and parts were whitish. Usually they have some shading on the inside, but it's rarely this pronounced.
Wanna talk about it?