Long beans can be used just like regular green beans - but they're long, a foot and a half long, which makes them cool. See that photo? That's a regular 12" diameter skillet, and I'd cut the beans in half.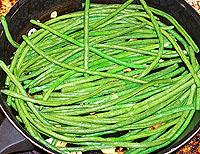 What you need:
1.5 tbsp of vegetable oil
1 medium garlic cloves (or 2 if you like it good and garlicky)
1 pound of long beans
1 tbsp of fish sauce
pepper, if desired
Trim the ends of the beans. Cut them in 2 inch lengths - or leave 'em longer if you think that's cool (I do) but be warned that if they're too long they will try to escape from the pan when you cook them.
Heat the vegetable oil in high and stir-fry the garlic until golden, about a minute. Add the beans, stir well so they get a coating of oil, and fry them for another 3 minutes. Add the sauce and pepper and fry another 10 minutes or until the beans are cooked.