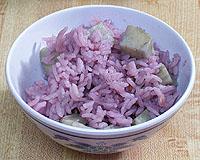 Imo-gohan is sweet potato rice. Rice with Japanese sweet potato. It's not normally purple, as seen in this photo; I colored the rice when I made this batch.
What you need:
1 cup of Japanese sticky rice
1 1/8 cup of water
5 oz of Japanese sweet potato - one very small one or half a regular-sized one should do.
1 tbsp of sake
1/2 tsp of salt
First, wash the rice in water, stirring it vigorously with your hands. The water will turn cloudy. Drain, then repeat 3 or 4 times, until the water runs almost clear. Then put the rice in a pot, add the amount of water listed above, and let it soak unheated for 30 minutes. Peel the sweet potato, then dice it up into cubes about a half inch in size and let these soak in cold water while the rice is soaking.
After 30 minutes is up, add the sake and salt to the rive & water and mix. Drain the sweet potatoes, then put them on top of the rice, under the surface of the water. Turn on the heat and bring to low boil, turn down the heat and let it simmer for 15 minutes or so. Check for doneness; it should be soft, not mushy. When it's done, take it off the heat and fluff it around gently with a wetted rice paddle (or wooden spoon) to distribute the potato in the rice without mushing it up.