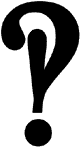 Miscellaneous Stuff
"If I don't know where else to put it, it goes here!"
This section of The Negapage is sponsored by The Interrobang.
---
My first Oz fanfic. The Scarecrow and Patchwork Girl find out that this romance business is tricky. Based on the books by L. Frank Baum, not the movie.
New!Labor of Love - Scraps, aided by The Woozy, working on the title project.
Every year I post my favorite Christmas carol holiday season song, "Merry Christmas, If That's Okay." This song, which embraces all faiths, was originally sung on the Mystery Science Theater 3000 episode "Santa Claus." Enjoy.
Yes, Chubby's! Home of Spaghetti in a Cup and Tortel-Weenies! Let's all go eat at Chubby's!
"Thoughts from Outside" was a column I did for a Rocky Horror fanzine, "Strange Journey," way back in the early nineties. I wrote as Fuchsia. You see, Magenta was Riff Raff's "most beautiful sister," and Fuchsia was... the other one. Anyway, she wrote some commentaries on Earth culture which just proved how much she missed the point. Or maybe she understood more than we did.
Nahhh... not if she chose to investigate SPAM.®
One day around Halloween, after watching a certain movie, I was possessed to write a Peanuts story. Linus, waiting in the pumpkin patch, finally sees The Great Pumpkin! Or does he? (insert cheesily ominous laughter here.)
---