Icon Take It Anymore!
---
Here are some Windows and Macintosh ReBoot icon libraries I have created. Feel free to download them and use them on your computer if you like 'em. All windows icons, unless mentioned otherwise, were created by Kim "Slack" McFarland, and all Macintosh conversions were done by Roeboot.

Instructions on using these are at the bottom of the page.
---
---
---
PID Icons by Wendy Lee for Macintosh OSX 10.2 or higher.
(These are in a Stuffit archive.)
---
| | |
| --- | --- |
| | And a set of mask icons for all the Hex Nuts out there. And now these masks are Macintosh compatible too! |
---
Lots and lots of Bobs to mend and defend your desktop! These files are now available for Macintosh computers.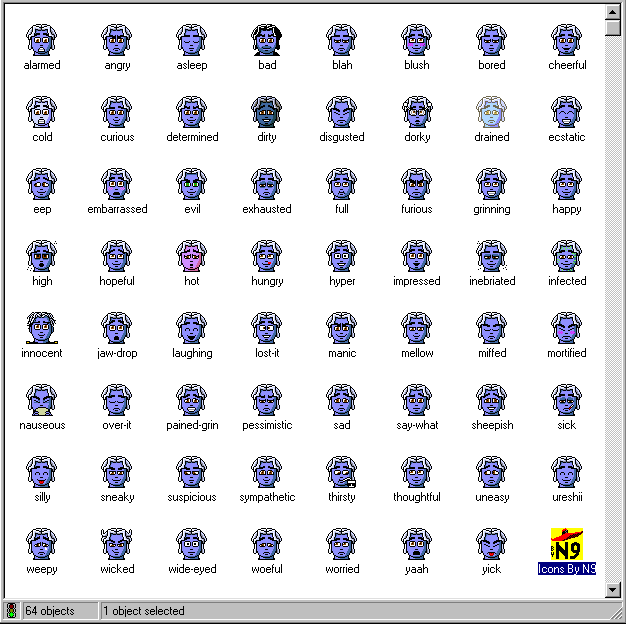 ---
---
Val has modified the Bob icons so you can have a desktop fulla Cadet Bob!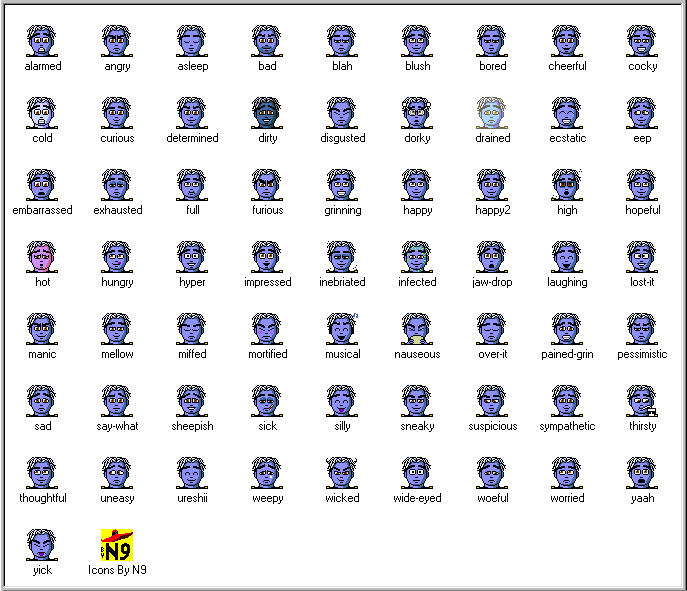 ---
Enzo, Little Guardian Enzo, Little Matrix, Little Bitty Enzo, Punk Teen Enzo, and other variations on the young Enzo Matrix. He is also Macintosh compatible.

Val has modified the Enzo icons so you can get them all in version 0.1 or 1.0. (0.1 is to the left; 1.0 is below.)
---
29 decapitated Matrixes to decorate a desktop, plus as many for the Mac.*

*Dialogue designed by Darkwing Duck.
---
| | |
| --- | --- |
| | 62 Dots. Insert your own snappy description here. Insert a clever blurb about Mac compatibility too. |
---
| | |
| --- | --- |
| Based on the original Dot icons, Val created this set of Teen Dot icons. Pretty cute, eh? | |
---
10 Phong images. I know, it's a small set compared with the others, but how much can you do with that face?

These files are now available for Macintosh computers! Screenchot by Gwen Smith.
---
42 Hack & Slash icons. Who knew you could get so much out of a pair of eyes?
Now they can stare at you from your Macintosh desktop too!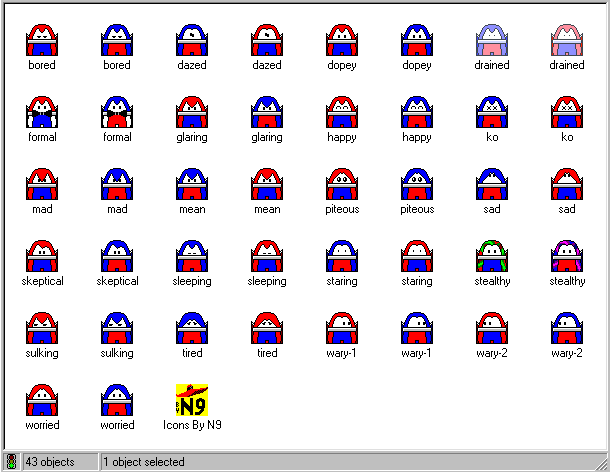 ---
---
| | |
| --- | --- |
| 51 Mouses - Mice - Meese - HACKERS for your desktop. Now hacking Macs too. | |
---
| | |
| --- | --- |
| | Let Big Blue infect your desktop. He comes in normal and butt-ugly variations. and can also infect Macintosh computers. |
---
15 Daemon icons. What can I say, she didn't have the greatest range of expressions. But she is versatile enough to infect Macintosh computers.

(And before anyone asks, yes, I know she's missing her crest. Windows icons are 32x32, and if I'd included her crest then her face would have ended up so tiny I couldn't have gotten any expressions in at all.)
---
| | |
| --- | --- |
| | 18 Ray Tracer icons, one for each web browser, even if you have a lot of web browsers or a Macintosh computer. |
---
72 White Hexadecimal icons. Wow, now that she has a face I can do so much more with it!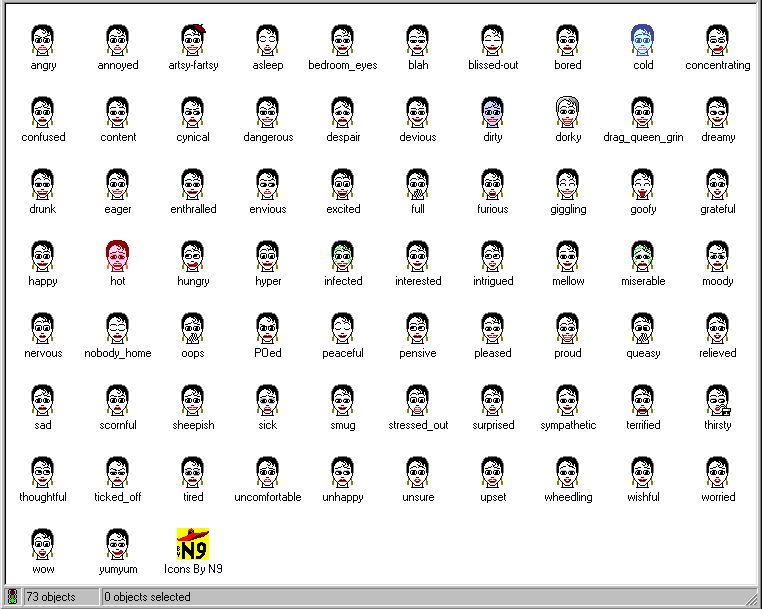 ---
| | |
| --- | --- |
| | Turbo, the Prime Guardian, comes in regular and pre-infected variations for Windows and the Macintosh. |
---
---
---
132 nulls. Too many to show normally, so I'm leaving the titles out. Like anyone can tell a null's expression anyway?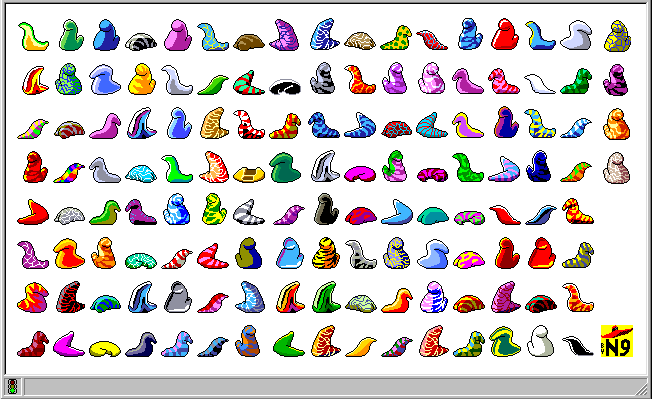 ---
---
New! Made by Val.
These are animated - the clock hands rotate through 12 hours.
---
Download the file(s) you want, unzip 'em, and put it/them in an appropriate directory. This will be /windows/system/, unless you have a specific directory for icon libraries.
All ReBoot icon libraries except the Hex masks are 256 color icons which only work with high color or true color monitors; on a 256 color display they'll look like garbage. Sorry, there's nothing I can do about that. But these days it shouldn't be a problem for many people anyway...
Now highlight the icon you want to change, and select "Properties" from the Program Manager "File" pull-down menu. Hit the "Change Icon" button, hit "Browse", and go to the directory you saved the icon file to. You probably won't find the icon library on the list of "icon files" because its extension is .ICL (icon library) as opposed to .ICO (single icon). Not to worry. In the "File Name" area type in "*.icl" (minus quote marks) and it will show you all the .ICL files. Select the file you want, press OK, select the icon you want, press OK again, and hit OK again to finalize your choices.
The above directions are for Windows 3.1. For Windows '95 and beyond you will start by right-clicking on the icon and selecting "Properties". From there the process is basically the same.
How do I use these cursors in Windows 95 & Beyond?
Save the cursors to your windows/cursors subdirectory. Then , under "settings",open your control panel, go to "mouse", then to the "pointers" tab. I suggest you use the hourglasses and spinning mask cursors as "waiting" cursors, because otherwise they get pretty distracting. The "hot spot" on these cursors is the top center of the image, unless the cursor has an arrow, in which case it's the tip of the arrow (duh).
---
Back to
Slack & Hash's Domain
or
Icon Take It Anymore!
---