---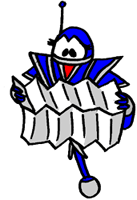 Main Page
Site Map
ReBoot KiSS dolls by Slack and Mary Ellen Loan
Hash's Page of stuff, including videos and stills from the Playstation game and elsewhere.
A shrine to Hexadecimal, featuring fan art, fan fiction, sounds, desktop gooies, and other stuff.
Sound files from Season 4
Slack's Quote of The Week Contest
MégabogueS - ReBoot in French.
Icons
Toy Trading
Awards Page
Link banner
ReBoot Mah-Jongg
Silly, Lame Answers to Questions. Slack and Hash's version of Frequently Asked Questions.
The parent page to Slack and Hash's Domain, containing Darkwing Duck fan fiction and art, a humor archive, Brak's Scrapbook, Castle Numbskull, and lots of other things.