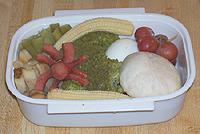 Nothing in this box is actually new to this site, but the presentation is kinda new. Well, okay, I just like the packaging, ' cause it includes a whole lot of different things, and the variety made for a good lunch.
Clockwise (more or less) from the upper left: steamed pole beans, baby corn, forest octopi, a boiled egg, grapes, a steamed bun, and baked steak fries. Not bad for one of those "use up the leftovers" days, eh?
And, yeah, I did stand up the beans and fries. What can I say, I was in that kind of mood.
Wanna talk about it?