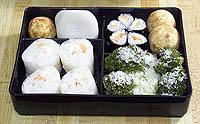 Today's lunch features two different kinds of sushi. The little rolls are smoked salmon maki, pressed before cutting up the long roll to shape the cross section into a teardrop so I could make a little flower with it. The larger ones are smoked salmon & cream cheese maki, and instead of being wrapped with nori, they have a rice paper skin. Some time ago a friend mentioned seeing sushi wrapped in what appeared to be spring roll wrappers, and as I had run low on nori this looked like a good time to try that out. The verdict: not bad at all!
Then there's storebought takoyaki, more steamed broccoli with nameless Spanish cheese, and a daifuku.
Wanna talk about it?