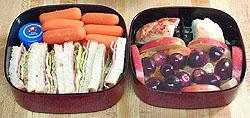 I was just not in a cooking mood this weekend. Thankfully, I had a lot of sandwich fixings so I could get by comfortably enough. This has carried over to today: I have a ham, turkey, and beef deli sandwich on French bread. Why I sliced it into inch-and-a-half strips and turned it sideways I'm not sure. That makes sense with peanut butter and other sticky stuff, but with meat slices and lettuce? Go figure. Up above are mini-carrots with hummas, which are another example of my laziness, but not at the expense of taste, as I love raw carrots with hummas. (Three Sheiks plain hummas. Athenos is another good brand. I've tried other, non-refrigerated brands of hummas that came in cans or jars - yuck.)
On the other side is pecan cake and a fruit salad made with guava, orange, apple, and grapes. The grapes, by the way, are cut in half. Why? because, even though they were labeled seedless grapes, they are full of great big ol' seeds. I cut the grapes in half and took out the seeds with a knife tip. Yes, I was too tired to cook on Sunday, but I could seed grapes.
Wanna talk about it?