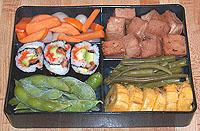 This lunch started out with free-form sushi. I didn't have a lot of the traditional sushi ingredients, so I used what was on hand: shiitake mushrooms, avocado, omelet strips, and ikura. I mixed up some teriyaki sauce from the stir-fried teriyaki chicken recipe and used it for marinade to make stir-fried teriyaki tofu. Then there's some more steamed green beans, some baked plantain, edamame, and longans and persimmon slices.
I brought a persimmon to the office and gave it to a coworker (the one I've mentioned several times before - she named this site's shrimp mascot and gave me Spanish cheese). That persimmon got a lot of attention from various people in the office. It was like show and tell!
Wanna talk about it?