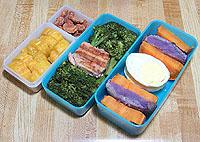 To compensate for yesterday's all-tan-colored meal, here's a pretty wildly-colored lunch. It starts out innocently enough with grilled salmon a la Foreman and steamed broccoli, which provide very natural pink & brown and green. But then there are baked Purple Peruvian potato and baked sweet potato, which have surrounded an innocent boiled egg and are no doubt plotting something nefarious. On the other side is some bright yellow baked plantain, which by the way is so ripe and sweet that it qualifies as dessert, and finally a little container of honey-roasted cashews.
I love cashews, and honey-roasted ones... let's put it this way: I very, very rarely buy nuts like these, because 1) they are so very high-calorie, and 2) as soon as I open the can the nuts cry out to me, and do not stop until all have been consumed.
Wanna talk about it?