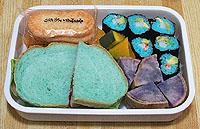 Normally blue bread is something to avoid, unless you happen to be desperate for a quick dose of penicillin. However, the blue French bread which forms the foundation of this turkey-bacon BLT has no antibiotic properties that I know of. It was simple to make; I just added food coloring to the water before proofing the yeast. (You can't imagine what the yeast foam looked like. Trust me, you don't want to.) I find this bread kinda neat, because the bright color leads you to think it's going to have a sugary, Kool-aid flavor, but it tastes exactly the same as regular French bread.
Then there's more blue sushi with crab and avocado - same batch of blue rice, natch - and more steamed kabocha and baked purple sweet potato. Yeah, I pack those a lot, but they're healthy and cool-looking and I like them and the last kabocha I cooked was big. And finally, resting on top of some kabocha, there's a packet of bin-bin rice crackers.
Wanna talk about it?