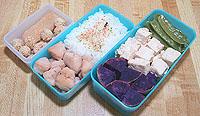 This weekend I was ill and not in a mood to cook. Well, I was sure feeling better when I cooked all this! None of this is leftovers, except that, being a bento lunch made from what I had for dinner previously, it's all leftovers.
Anyhow, from right to left (because I'm feeling ornery, that's why) there be: steamed snow peas; marinated, stir-fried tofu; baked purple sweet potato; rice with shrimp furikake; marinated stir-fried chicken; peanut mochi, and some Chinese sesame crunch things. Although I have recipes for everything I cooked, I didn't really bother with them. I just slung some mirin and sugar in soy sauce for the tofu and chicken, and steamed the snow peas until they seemed right. OK, I did measure the water and rice, but I wasn't very exact about it.
Wanna talk about it?