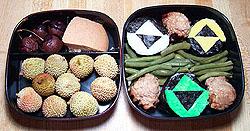 Click-click! Today I have a trio of onigiri made to look like ReBoot icons. I'm a longtime, hardcore booter, and I felt particularly motivated by recent news, see below. The Guardian (yellow) icon has a bit of thin omelet on top, and the viral (green) one has some.. er, green egg on top. Then there are some off-the-skewer tsukune, steamed green beans (from my coworker Maria's garden!) fresh lychees, bulla, and chocolate dipped cherries.
Totally off-topic: if you're a ReBoot fan too, guess what - Rainmaker Entertainment, the company that bought Mainframe, wants to bring it back! Zeros2heroes has much more info.
Wanna talk about it?