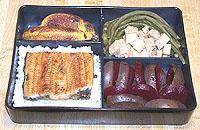 Normally I'd have a Halloween-themed lunch, but circumstances conspired against it. I was sick on Tuesday, and didn't eat the lunch I packed Monday night. So, here it is, a day late, all non-Halloweenish.
Anyway! Here's unagi no kabayaki over rice. (Is eel Halloweenish? No? Oh well, I had to try.) That dark corner has baked eggplant slices alternating with beets because I was curious as to how the flavors would work together. Up above that is some marinated, stir-fried tofu under a "rainbow" of steamed long beans, and, finally, baby bananas over in the corner.
By the way, I am not entirely bereft of Halloween spirit. Far from it! In my office I wore a kimono I sewed myself. Out of denim. With a pants-leg obi. And, as happens every year, I got dragooned into doing several coworkers' makeup.
Wanna talk about it?