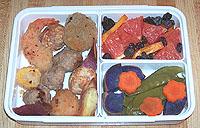 I started out filling this lunch box with whatever came to hand: tsukune, tempura, takoyaki, and fried potato skins. ("This lunch has been sponsored by the letter T.") That made for a lot of golden browns. On the other side, I'll admit I was going for color, with steamed snow peas, baked purple sweet potato, carrot, and a fruit salad made with apple, persimmon, raisins, and pink orange.
I have no idea why the carrot is shaped like sakura flowers. We all know that that kind of frou-frou business is not my style. I suspect sinister forces are at work.
Wanna talk about it?