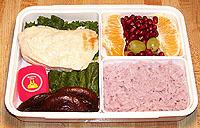 I'm recovering from my recent double-match with the cold, so now I'm doing some decent cooking. Here's some grilled chicken, which I cooked wrapped in tinfoil. That keeps it juicy and tender, but it almost eliminates the grill marks. It's served on mustard greens ohitashi, which is basically mustard greens rolled into cigars and sliced into maki-sized cylinders. To the side is a little container of mayonnaise because that's how I eat my greens, especially mustard greens, which taste like a condiment that I don't keep in my kitchen. Then there are some simmered shiitake mushrooms and lavender rice, the latter of which is made with water left over from my recent purple sweet potato pie. (It's made with water reserved from the potato-boiling stage, and thus tastes slightly sweet.) Finally, I have some orange segments, grapes, and pomegranate seeds.
My, it feels nice to once more have the energy to do real cooking!
Wanna talk about it?