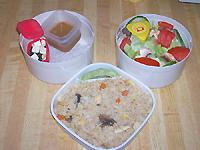 Over the weekend I found a lunch box that looked like it wanted to be a thermos. Inside were three containers, two round and one sandwichlike. For six bucks, I couldn't resist.
In the upper left we have miso soup. Rather, what will become miso soup. The smaller boxes contain miso paste and the topping that will turn into seaweed & onions & tofu, just waiting for hot water from the coffee machine to activate them. Below them, in the bottom of the container, is a layer of crushed rice sticks. I like to add a handful of these to miso soup. Kinda kicks it up a notch.
In the upper right is a green salad, with lettuce, mushrooms, and more of the tomato my coworker gave me. The container has ginger salad dressing from Benihana. That salad dressing is good.
At the bottom, chicken fried rice in a shallow container. It's made even shallower by the depression in its lid made to house the spoon that comes with this set. (A spoon? How cutesy. But I am eating soup today...) It has a little teeny side compartment for sauce or something, so I stuck three edamame pods in there.
Wanna talk about it?